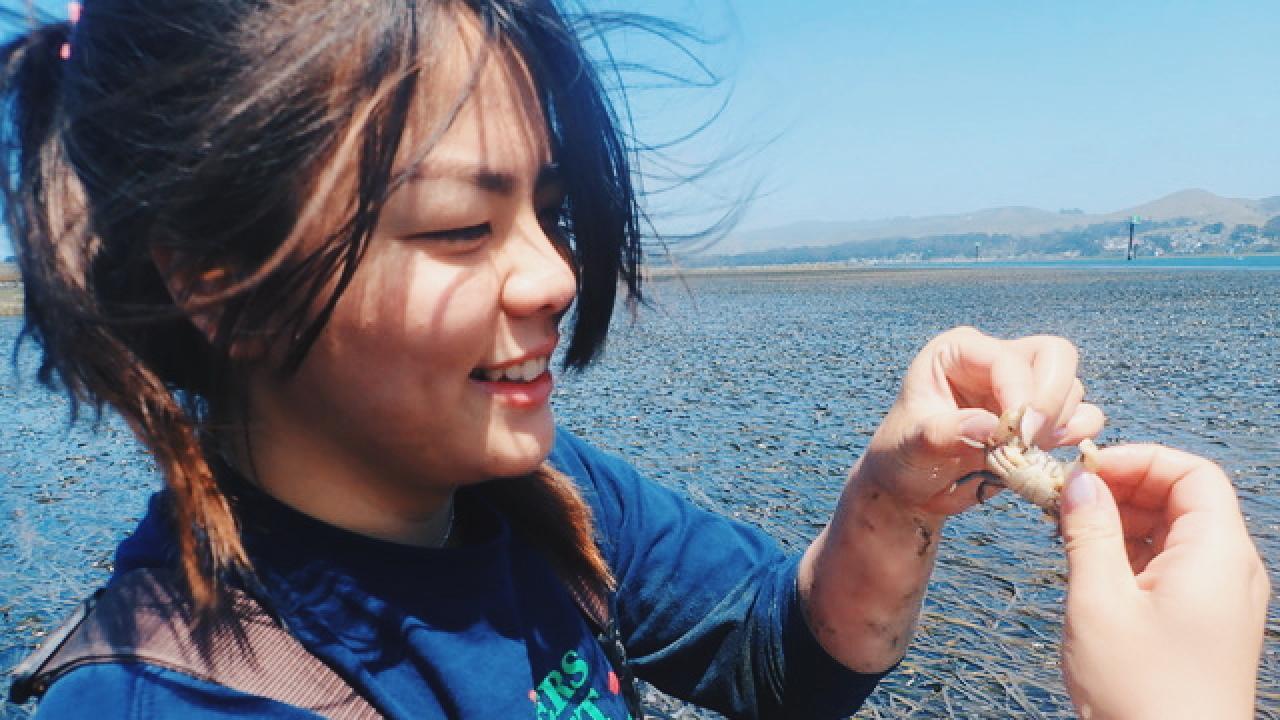 There are worlds inside Megan Ma's journal. On one page, a cartoon girl teeters through a rocky field filled with tall mushrooms. On another, a study-stressed cow sits at a desk staring at a laptop marked "UCD." And on another, droplets of blue and purple watercolors have morphed into bunny-like avatars.
But there are more than imaginings in Ma's journal. Flip through it and eventually, you'll stumble upon sketches of millipedes in anatomical detail. There are anterior and posterior views, ventral and lateral views and even sketches of single body segments. All the drawings are labeled, with detailed notes about millipede biology written alongside them.
" I would like to think that art, like just drawing things out, is the purest form of observation," said Ma, a student majoring in evolution, ecology and biodiversity. "Me trying to figure out how to draw something is also an opportunity for me to learn more about that organism and its structures that I'd otherwise look past."
Since enrolling at UC Davis nearly four years ago, Ma has lent her artistic talent to the Aggie community in many ways. She's taught scientific illustration for the Bodega Science Communication Collective, provided artwork for the BIS 2C lab manual and currently works as a graphic designer for the Center for Leadership Learning, all the while taking classes and rotating through research labs, among many other activities. She even provided the illustration for this year's holiday card from the College of Biological Sciences.
"I do think I've come to appreciate science more because of art, and I've come to appreciate art more because of science," she said. "Everything feels like it goes hand in hand."   
In the Bond Lab, Ma studies millipedes and is working with Ph.D. student Xavier Zahnle to better understand and visualize the anatomy of millipedes. Greg Watry/UC Davis
Many labs, many opportunities
When Ma first arrived at UC Davis, she felt alone. She was unsure of her new environment and found that meeting people outside of the classroom was easier said than done. Initially interested in marine biology, Ma reached out to the late Susan Williams, a distinguished professor of evolution and ecology, and inquired about undergraduate research opportunities. Her proactivity changed everything.
Ma provided this illustration, which shows moon jellies (Aurelia aurita), for the college's holiday card. Megan Ma
Ma was soon logging conservation data from over 500 fish species from the Coral Triangle, a highly biodiverse region in the Pacific Ocean. What's more, she struck up friendships with her lab colleagues, including graduate students and other professors, creating a network that would lead to many opportunities throughout her undergraduate career. When Williams passed away in the spring of 2018, Ma switched to the lab of Professor Jay Stachowicz, where she started studying the marine invertebrates inhabiting seagrass beds. In both the Williams lab and the Stachowicz lab, Ma worked closely with marine ecology Ph.D. student Katie DuBois.
"I learned how to identify a lot of different types of invertebrates," said Ma, noting she was particularly fond of sea slugs but that the vast majority of critters she found were arthropods. "They're so cute."    
An artist noticed
During the summer following her freshman year, Ma took BIS 2C "Introduction to Biology: Biodiversity and the Tree of Life" with Assistant Professor of Teaching Joel Ledford, Department of Plant Biology. By that time, Ma was so busy with classes and research that art had fallen by the wayside. But things were about to change.
Here we see Mopalia muscosa, or the mossy chiton. This pieces makes an appearance in the BIS 2C lab manual. Megan Ma 
"Some of the assignments in 2C ask students to make simple sketches of the organisms they see in labs," said Ledford, who at the time was revamping the BIS 2C lab manual. "I happened to notice that Megan's were amazing and she shared several others that she had done."
Ledford asked Ma to provide the remaining artwork for the new lab manual. "I am especially proud of the new lab manual and Megan's illustrations are a big part of that," said Ledford.
"Scientific illustration," he added, "provides a different perspective in biology, partly as a result of the interpretation done by the artist. In order to be a good illustrator, it is important to be able to 'see like a biologist,' so it is a specialty skill."
And Ma's skill didn't go unnoticed. Encouraged by graduate students and professors, she created a proposal for a scientific illustration course. Sponsored by Stachowicz, the course was offered in spring 2019 to the Bodega Science Communication Collective. Instead of Ma learning from graduate students and professors, the roles were flipped. She was now teaching them best practices for field sketches.
This digital piece by Ma shows a trapdoor spider (Aptostichus stephencolberti). Megan Ma
To see like a biologist
Ma is drawn to textures, both in art and biology. An organism's texture is usually the first thing she notices. Such was the case with sea slugs, and now, it's the case with millipedes, a terrestrial arthropod Ma studies in the lab of Professor Jason Bond, Department of Entomology and Nematology.
In the Bond Lab, Ma works with Xavier Zahnle, a Ph.D. student studying entomology. Together, they use 3D x-ray scans to better visualize the anatomy of millipedes.  
"The goal of this project is to visualize the skeletal elements and muscles of all the major millipede groups and compare their evolution across the millipede tree of life," said Zahnle, who referred to millipedes as "gentle and meek" creatures "but very cute!"
Like Zahnle, Ma finds millipedes completely mesmerizing, especially when they walk. Their tiny legs flow like waves as they meander about.
"As a scientist, Megan is very driven to satisfy her curiosity," said Zahnle. "She's always asking questions, and more often than not, we end up wading through the literature together to find the answer."
In the Bond Lab, Ma uses 3D x-ray scans to better visualize the anatomy of millipedes. Megan Ma
Currently, Ma is mapping 3D structures of millipede reproductive organs for Zahnle's research. She's so fond of millipedes that she now keeps two as pets, a male named Daikon and a female named Gumball. They're two of Ma's many "invert pets." She tends to a stable of isopods and a ghost mantis (Phyllocrania illudens) named Obsidian.   
"I think I've learned to appreciate terrestrial arthropods more in general," said Ma. "A lot of them are around us and I didn't really pay attention to them until I had to catch them for class."  
On the cusp of graduation, Ma ponders her next steps. Her current plan is to take a gap year (during which she plans to continue working in the Bond Lab) and apply to graduate school, focusing her applications on institutions with terrestrial arthropod research programs.
"There's a lot to discover and I find that really fun," she said. "I still hope to be doing research and maybe keep more invert pets."    
Stay Informed! Sign up for our monthly email newsletter
A cartoon girl teeters through a rocky field filled with tall mushrooms in this drawing from Ma's journal. Greg Watry/UC Davis